Does your letter to Santa look more like this: "Dear Santa, All I want for Christmas is blue water, soft sand, and warm weather"? If that's the case, you're like us and think there's snow place like the beach for Christmas! Join us this year for a beachy Christmas in New Smyrna Beach, looking for Santa claws 🦀 and seashells 🐚instead of Santa Claus🎅 and snowflakes ❄️.
Nothing is quite as fun as a white sand beach Christmas! You get all the fun and festivities without the cold. From a traditional Christmas celebration to the lighted boat parade, spending the holidays right here in New Smyrna Beach is a Christmas memory you won't forget.
Attend the Sanford Jazz Ensemble Christmas Show
One of the best ways to celebrate this holiday season is attending the Sanford Jazz Ensemble Christmas Show at the Brannon Center on Sunday, December 18, 2022 from 3:00 to 5:00 p.m. You'll hear holiday favorites like "White Christmas" and "I'll Be Home for Christmas."
The performance will also include an armed forces tribute. Best yet, the event is free, making it a great way to celebrate the weekend before Christmas. The doors open at 2:30 p.m., so make sure you get there early to snag a seat!
Attend the Holiday Boat Parade
In the evening of December 10, make sure you head out to Riverside Park to enjoy Southeast Volusia's holiday boat parade, which starts at dusk. (Dusk will occur around 5:50 p.m. on December 10, if you were wondering.)
You'll be delighted by the decorated boats and the holiday lights, especially as they twinkle off the water. Every year, we like to take a vote among the family to decide which one is the best decorated for the season. There are often some pretty ornate boats! Which boat will captivate your family this year?
Walk on the Beach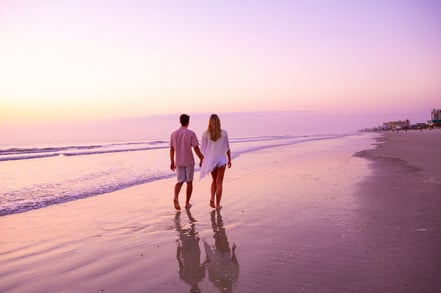 Finally, it wouldn't be a white sand beach Christmas without a walk on the beach, am I right? So make the most of the fact that you're right by the beach and go for a holiday walk. Enjoy the breeze in your hair, the sand crunching underneath your shoes, and the calm, relaxing sound of the waves. In our humble opinion, dashing through the sand beats dashing through the snow.
If you're lucky, maybe you'll see dolphins or even whales as you look out on the ocean. No matter what you see, though, it will be a fond memory with holidays with the family. I still remember walking along the beach one Christmas afternoon with my nephew and thinking, "Christmas is way better in flip flops!