More than ever, it is critical for us to take care of ourselves. As our society hesitantly eases into a "new normal," we can't deny that social distancing and isolation will continue to negatively impact our health. To help take care of my mind and body, I decided to plan a staycation for myself in Florida and headed to New Smyrna Beach for some desperately needed relaxation. Here's to wellness!
Where to Stay and Eat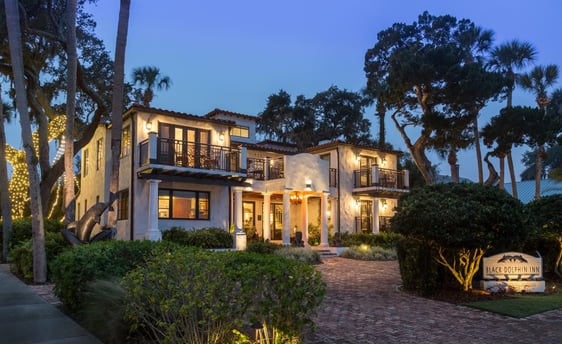 Personally, I support independent businesses whenever I can. I highly recommend staying at one of the local inns in New Smyrna Beach. A few of my favorites are The Riverview Hotel, Black Dolphin Inn, Seahorse Inn, and Coastal Waters Inn. The Riverview Hotel is a highlight because of their on-property Spa at Riverview. Black Dolphin Inn overlooks the Indian River and is a short walk to Canal Street. Seahorse Inn is located right on Flagler Avenue, and Coastal Waters Inn is a privately owned set of condominiums.
Speaking of condominiums and vacation homes, Ocean Properties Vacation Rentals, Great Ocean Condos and Homes, and Ocean Trillium Suites are three of the top rental companies in the area. If hotels are more your style, there are two Best Westerns to choose from: The Best Western New Smyrna Beach Hotel & Suites and The Best Western Edgewater Inn. Both are close to Florida's most popular attractions and tourism hot spots.
A unique way to experience the food scene in New Smyrna Beach is by booking a culinary walking tour with Eat NSB. Additionally, there are many great restaurants in New Smyrna Beach. Flagler Tavern, The Garlic, JB's Fish Camp, The Breakers, and Norwood's Restaurant and Treehouse Bar are delicious. Many of these places overlook the Atlantic Ocean and have inviting decks for you to lounge on.
Things to Do
No wellness retreat would be complete without beach therapy. Take your pick from New Smyrna Beach North, New Smyrna Beach South, Flagler Avenue Beach, Apollo Beach, and Disappearing Island. It does the mind and body good to soak up some rays of sunshine and breathe in fresh ocean air. Go ahead, feel the warm sand between your toes and go for a swim. New Smyrna Beach is known for world-class paddleboarding, kayaking, diving, fishing, and other water sports. Dry off by strolling along miles of boardwalk or take advantage of the jogging, cycling, and horseback riding trails.
Reconnect with nature by checking out The Marine Discovery Center; it is an institutional landmark of New Smyrna Beach. The staff members teach patrons about the Indian River Lagoon. The lagoon is the most biologically diverse estuary in North America and more than 4,000 species of animals call it home. Book the center's guided ecotour or kayak miles of backwater, mangroves, and surrounding inlets at your own pace. Stopping to appreciate your surroundings is part of cultivating wellness, right?
Explore Flagler Avenue and Canal Street and celebrate the magic behind one of Florida's oldest cities (New Smyrna Beach was founded in 1768). A few Canal Street events include art strolls, gallery walks, and the classic car show. Don't leave without visiting the New Smyrna Museum of History; it gives a chronological overview of how New Smyrna Beach came to be, starting with prehistoric Florida and continuing through present day.
After running around town for what seems like forever, I treat myself to a massage at Mind Body Soul. There's no scarcity of spas in New Smyrna Beach, and Spa at Riverview, Spa at Venetian Bay, and Abundant Health Float and Day Spa are happy to pamper you.
Closing Thoughts
They say that "if you don't make time for your wellness, you'll be forced to make time for your illness." With the busy lives that we lead, it is all too easy to ignore what our bodies and souls crave. The silver linking of lockdown was that it forced us to learn the true meaning of "wellness." For once, I made my health a priority and recharged in New Smyrna Beach. Won't you do the same? You owe it to yourself!