The New Smyrna Beach community endeavors to be accessible to visitors of all needs. We want to highlight some of the services and businesses that make it easier for people with disabilities to explore the area with confidence.
Visit Smyrna Dunes Park: beautiful views, wheelchair accessible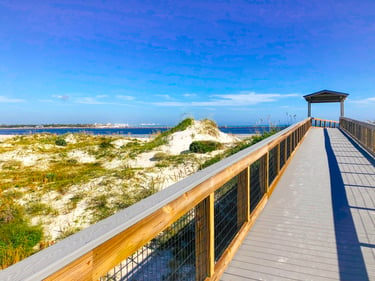 Getting out in nature is good for everyone, and it's important that all are able to explore the great outdoors. At Smyrna Dunes Park, you'll find a wheelchair-accessible boardwalk of two miles, meaning those with wheelchairs can enjoy the scenic coastal route too. Our insider tip is to go at sunrise for the most amazing sky colors you will ever see. There's also a three-hundred-foot handicapped-accessible fishing pier if you're interested in catching a big one. Be sure to be on the lookout for shorebirds and gopher tortoises as you traverse the boardwalk or fish from the pier! Parking is ten dollars (or twenty dollars if you get an annual pass), but is free for handicapped and disabled veteran-registered vehicles. Discounts are also available for first responders and veterans. Flagler Avenue and 27th Avenue Beachfront Park also offer wheelchair accessibility to enjoy our stunning beaches.

Get to the Waves with Beach Wheelchairs Provided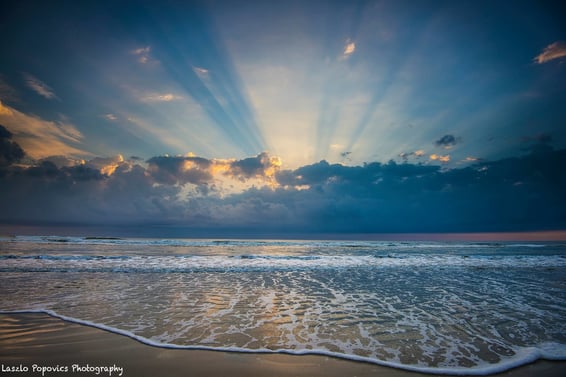 Those who need assistance traversing the beach can check out beach wheelchairs from the lifeguard station in Daytona Beach at 515 S. Atlantic. It is first come, first served. Depending on the waiting list, you may be able to use it for several hours. Find more information here. Currently, the New Smyrna Beach Wheelchair is being serviced.
Additionally, those with a vehicle displaying a handicapped insignia can park beside the east side of traffic lines in almost all areas, except from the Crawford Avenue approach to the Third Avenue Approach due to congestion. Parking is also free for handicapped registered vehicles.

Accessible and Local Stays


For those coming from out-of-town, there are a number of accessible accommodations, from chain hotels to local lodging favorites. Whether you're interested in a cozy bungalow on the mainland or a villa-style bed and breakfast off the Intracoastal, New Smyrna Beach has options for you! Anchor Inn Bed & Breakfast offers seven ocean-themed private bath guest rooms in a historic bungalow. It is located in Historic Downtown New Smyrna Beach, close to many activities and restaurants.
There are first-floor guest rooms and a wheelchair-accessible ramp to the main lobby. We love the complimentary breakfast—a highlight for many visitors—served at different times to accommodate different needs.
Similarly, Black Dolphin Inn, which is right off the Intracoastal, is an ADA-compliant facility and offers a first-floor guest room next to the lobby area. Staff asks that individuals with special requests reach out to them directly to make sure the accommodations suit their needs. There are many additional properties that offer ground-floor accommodations close to the beach, including Great Ocean Condos and Homes and Ocean Properties. For more accommodation options, visit our Where to Stay page.
We take pride in welcoming you to our beautiful area and making your experience comfortable and enjoyable. Should you have any questions while planning your trip, our visitor center staff is one call away at (386) 428-1600.