As colder weather moves in, signaling the beginning of months of snow and frigid temperatures, many residents of the Northern part of the country pull up stakes to spend their winters in a warmer, more pleasant climate. For those looking for lush landscapes, friendly people, and plenty of opportunities for activities and dining, but without the crowds of larger destinations, the New Smyrna Beach Area should be at the top of the list. In this Atlantic Coast destination, the options for keeping busy or just relaxing are never-ending. Join the snowbirds who call one of the hidden gems in this area their winter home.
New Smyrna Beach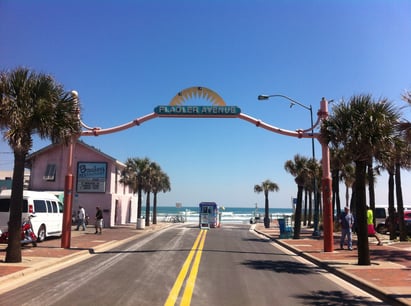 Named by both the Huffington Post and Smarter Travel as one of Florida's best beach towns, New Smyrna Beach offers a charming downtown with art galleries, boutiques, and numerous restaurants, many of which adhere to the farm-to-table philosophy. For wildlife lovers, numerous species of animals and plants can be found in this biodiverse estuary, including numerous shore and wading birds, manatees, dolphins, and turtles. With a bounty of activities, whether the annual IMAGES art festival in January, the monthly Flagler Avenue Wine Walk, or Canal Street Nights, with its live music and vendors each month, residents and visitors have plenty to look forward to.
Edgewater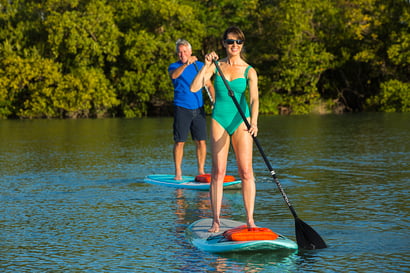 A paddler's dream, Edgewater—as its name suggests—sits along the banks of the Indian River. This community features the perfect mix of nature and technology. The Indian River Lagoon provides a unique habitat that welcomes and protects sea turtle hatchlings, migrating manatees, and thousands of dolphins. The waterways leading to the lagoon, as well as the lagoon itself, can be explored by land, on one of the town's numerous walking trails, or by canoe or kayak for an up-close view. For those excited by scientific discoveries, the nearby Kennedy Space Center Visitor Complex showcases the epitome of what our greatest minds can achieve. For those lucky enough to be in the area during a launch, the memory of seeing one of the giant craft blasting off is a one-in-a-lifetime experience.
Oak Hill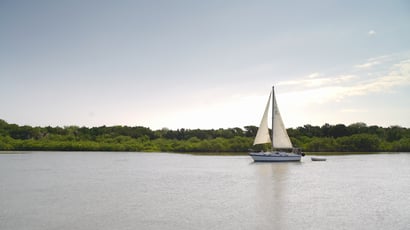 Snowbirds with a penchant for fishing will feel at home in Oak Hill. Known as a fisherman's paradise, this town perched on the shore of Mosquito Lagoon is one of the world's best spots to land redfish, due to its year-round population and shallow waters. For those who prefer to just eat fish and not catch them, the former wholesale and crab processing business, Goodrich Seafood, serves up daily seafood specials in an "Old Florida" atmosphere, without touristy pretensions. History buffs will love exploring Seminole Rest, with its prehistoric shell mounds dated to around 2000 BC, as well as two historic "newer" homes built in the late 1880s.
Osteen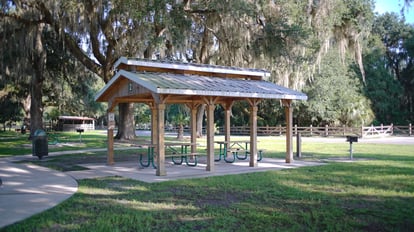 For those seeking a more rural destination, this inland community is the place. With its numerous recreation trails and parks, outdoor activities and chances to view the area's diverse wildlife abound. Overlooking the St. Johns River, the 150-acre Hickory Bluff Preserve is home to several ecosystems, from scrubby flatwoods to floodplain swamps. Of course, with this diversity of plant life comes the chance to observe several native species of birds and animals, including eagles, gopher tortoises, alligators, and otters. At Beck Ranch, a former cattle ranch, visitors can explore the historical ranch buildings or spend the afternoon enjoying the typical romantic Floridian landscape of live oaks draped with Spanish moss. The East Central Regional Rail Trail, which runs through Osteen, offers bicyclists and walkers the chance to take in the scenic surroundings from its shaded path.
Port Orange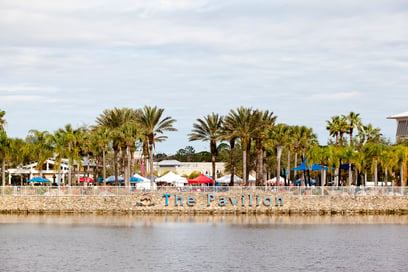 In this community north of New Smyrna Beach, outdoor lovers can partake in a relaxing paddle through Spruce Creek Park, or let someone else do the driving on a guided boat tour on Cracker Creek while they keep their eyes peeled for wildlife. The Dunlawton Sugar Mill Gardens features the ruins of the former mill surrounded by numerous plantings of beautiful blooms, succulents, and palms, highlighting the vast variety of plants that can flourish in this warm climate. Riverwalk Park, with its paved pathways and splash pad for kids, makes a great spot for taking grandchildren to while away in the afternoon. For shoppers, the Pavilion at Port Orange is home to several national chains and a 14-screen cinema, as well as walking trails and an outdoor performance venue. In addition, each Saturday morning, the mall hosts the Port Orange Farmers Market, which brings produce and gourmet food vendors as well as numerous artisans and live entertainment.