The New Smyrna Beach Area is the perfect place to gather your family and friends for a festive Thanksgiving or late fall celebration. With temperatures in the 70s, everyone can get out and enjoy all that the city has to offer. Numerous sites and activities offer plenty of indoor and outdoor options for multigenerational fun.
Kid-Friendly Activities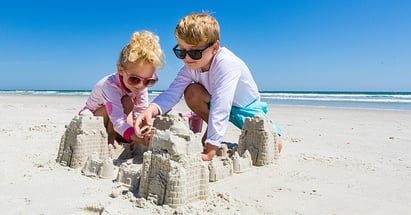 Groups traveling with children to the New Smyrna Beach Area will discover plenty of activities to keep little hands and minds occupied. At the Marine Discovery Center, exhibits teach kids—and their adults—about the natural world and how to keep it healthy through engaging demonstrations and hands-on experiences. Outside, the Wildflower and Butterfly Garden invites visitors to wander through a selection of native plants in search of colorful pollinators.
For those seeking to explore the city's cultural side, a visit to the NSB Arts Trail is a great starting point. Take in the current exhibit at the Atlantic Center for the Arts, or watch a working artist create a masterpiece in real-time at one of the many studios in The Hub on Canal. Visitors of all ages are sure to walk away inspired by the artistic creativity that flourishes there.
Fun for All Ages In New Smyrna Beach Area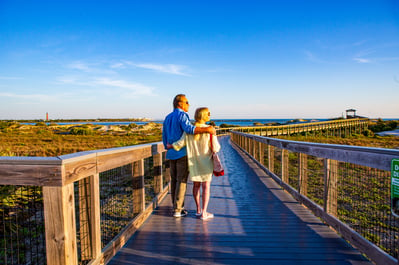 In the New Smyrna Beach Area, visitors of all ages can find a way to enjoy the outdoors. Take a leisurely cruise through the intercoastal waterways to find dolphins and manatees with one of the area's many marine outfitters. Explore one of the city's many beaches to feel your toes in the sand or experience the exhilaration of watching a rocket launch from the nearby Kennedy Space Center. Smyrna Dunes Park features an accessible boardwalk, so the whole family can enjoy the breeze off Ponce de Leon Inlet together.
Where to Eat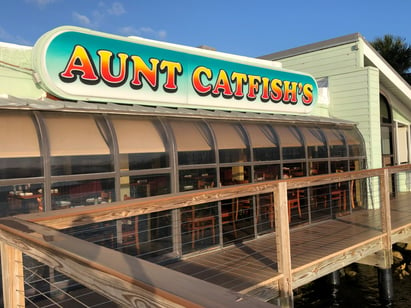 When it's time to eat, the New Smyrna Beach Area offers plenty of large-group-friendly restaurants for a traditional meal, fine dining, or just a quick bite. Be treated like family at Aunt Catfish's on the River while enjoying real down-home Southern cuisine, including an extensive kids' menu. For more casual dining, Panheads Pizzeria serves up Italian dishes and, of course, pizza, using the freshest ingredients and its famous homemade sauce. For a sweet finish, Zeno's Boardwalk Sweet Shop caps off any meal with a selection of fudge, taffy, and other candies. For Thanksgiving Dinner, contact the restaurant for more information and make reservations in advance.
With its many activities and interesting sites, New Smyrna Beach is the place to create lifelong memories for family and friends looking to get away for a late fall adventure.