New Smyrna Beach, Fla. (September 6, 2023) – The cooler seasons are quickly approaching and snowbirds from all over the country are beginning to plan their escape to warmer destinations. Those seeking a charming and sunny escape will adore the beautiful coastal community of New Smyrna Beach. With its mild winter weather, stunning beaches, vibrant arts scene and abundance of outdoor activities, the New Smyrna Beach Area is a hidden gem for winter travelers seeking fun in the sun.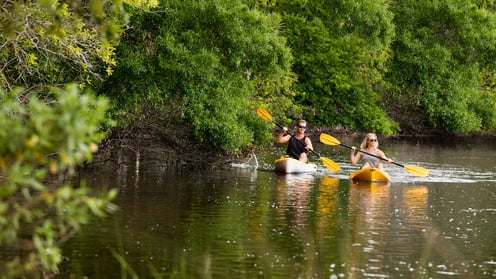 Located on Florida's Atlantic coast, the New Smyrna Beach Area offers a perfect combination of laid-back luxury and adventure. With miles of pristine sandy shores and average winter temperatures in the 70s, off-season visitors can spend their days in the sand, diving into a book or watching local surfers take to the waves. In addition to its picturesque beaches, the New Smyrna Beach Area is known as a hub for outdoor activities on trails, blueways and lagoons. From fishing and boating to hiking and biking, there is something for visitors of all ages to enjoy, whether on land or on the water. Nature enthusiasts can volunteer at the Marine Discovery Center or explore the nearby Canaveral National Seashore, which offers a unique opportunity to observe wildlife in their natural habitat. Those looking to stay active will enjoy the trail systems at Spruce Creek Preserve and Smyrna Dunes Park, perfect for walking and biking. For golf lovers, the area boasts several championship golf courses that provide a challenging and scenic experience.
Snowbirds embracing the winter months will be delighted to find bustling arts and culinary scenes in the New Smyrna Beach Area. The community is home to numerous galleries, shops, and restaurants that showcase local talents and flavors. For foodies, outdoor dining continues throughout the year at favorites such as Third Wave Café, The Garlic and Avanu on Flagler. SugarWorks Distillery, New Smyrna Beach Brewing Company and the Crimson House are havens for beer, wine and spirit aficionados. Artsy visitors can explore local studios or learn a new creative hobby in classes at beloved venues like the Hub on Canal and Jane's Art Center.

Wintertime travelers are also in for a treat with the area's exciting calendar of events that keep the fun going in the off-season. In January, the New Smyrna Beach Area hosts the annual IMAGES: A Festival of the Arts, drawing thousands of art lovers to enjoy works by local and visiting artists and give back to the area's creative community. Other wintertime events include Flamingo Follies Holiday Art Show, Coastal Christmas Market and monthly events like Flagler Avenue Wine Walk and Canal Street Nights.
In addition to the arts community, seasonal events and flourishing culinary scene, an abundance of accommodations including luxury and long-term rentals await travelers to the New Smyrna Beach Area. To plan a warm-weather escape this fall and winter, please visit www.visitnsbfl.com.
About the New Smyrna Beach Area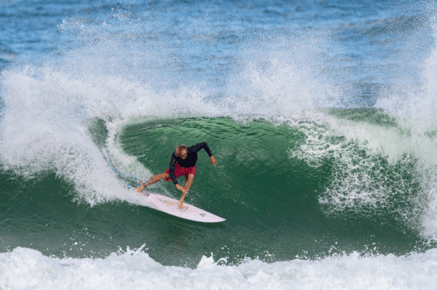 The New Smyrna Beach area includes the communities of New Smyrna Beach, Edgewater, Oak Hill, Osteen and Port Orange in east Central Florida. New Smyrna Beach is an eclectic mix of old and new; of subtle sophistication and bohemian soul that is as "real" as Florida gets. It occupies a notable place in history as the second oldest city in Florida, site of the largest single attempt at British colonization in the new world. The city's barrier island is recognized worldwide for its incredible surf with Surfer magazine recently touting it one of the "Best Surf Towns in America" and National Geographic magazine including it in its "World's Top 20 Surf Towns."
Accommodations range from charming bed and breakfast inns to family-size condominium units and oceanfront hotels. Natural attractions include 17 miles of sandy beaches from Ponce de Leon Inlet to Canaveral National Seashore and North America's most diverse estuary – the Indian River Lagoon.
Two distinct downtowns along Flagler Avenue and Canal Street and connected via the Waterfront Loop welcome visitors with independent restaurants, unique shops, artisanal coffee shops and art galleries.
For more information, please visit www.VisitNSBfl.com or call 386-428-1600. Follow @NewSmyrnaBeach1 on Twitter, Facebook.com/VisitNewSmyrnaBeach or @visitnewsmyrnabeach on Instagram for the latest news. Download the free New Smyrna Beach Mobile App for iPhone and Android to receive this information on-the-go.