When I started thinking about how to celebrate Valentine's Day with my significant other, the first thing that came to my mind was the beach—her favorite place. I quickly began planning a romantic retreat to the New Smyrna Beach Area, and it became one of our favorite weekends away.
Selecting a Romantic Bed & Breakfast Right by the Beach


I knew that our lodging would set the mood for the weekend, so I wanted to choose the right place. I was delighted by the Inn on the Avenue located beachside on Flagler Avenue. There were seven delightful rooms to choose from and a gourmet breakfast served every morning.
We got in Friday night and stayed in the Seahorse Room, which is decorated in aqua green and features a relaxing jacuzzi tub. The next morning, we enjoyed eating breakfast in the dining room. There was even a gluten-free option for my wife! Later in the day, we also sat outside on the balcony after it warmed up.

Enjoying Food at The Garlic and the Treehouse Bar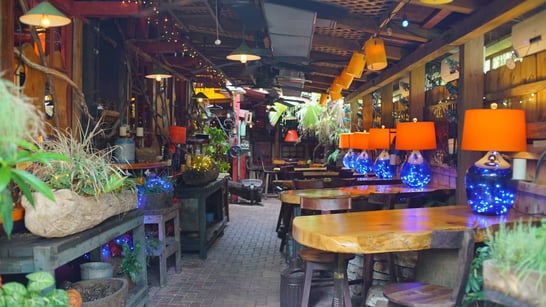 I really wanted to wow my wife with the food we ate, so I opted for unique venues and food that we wouldn't find anywhere else. After a relaxing morning at the B&B, we stopped at Norwood's Restaurant & Treehouse Bar for lunch.
She loved the treehouse deck because it was so unique. We ordered two appetizers—bacon-wrapped scallops and stuffed mushrooms—and a pound of snow crab legs to share, all of which were delicious. Not only was the environment cool, but also the food was great.
For dinner, we visited The Garlic, where everything is made from scratch. My wife got salmon, cooked in a wood brick oven, and I got bacon-wrapped filet mignon, which was a delicious twist on a standard entree. We're glad we decided to eat an early dinner and arrived at 4 p.m. when it opened because it quickly fills up!

Getting a Couple's Massage at the Spa at Venetian Bay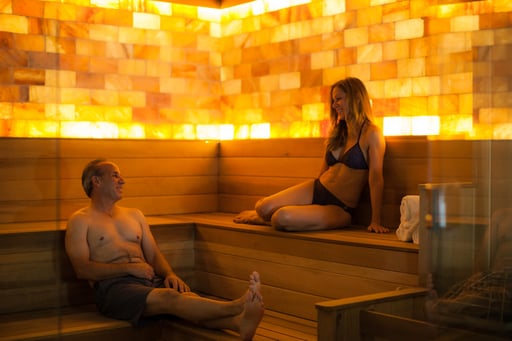 I knew nothing said Valentine's Day like a couple's massage, so I made sure to make a reservation plenty in advance at the Spa at Venetian Bay. I decided to select the Hot Stone massage option because hot stones help to promote deep tissue relaxation. We couldn't have been more pleased with our experience.
The environment was so relaxing, and the staff was attentive, checking throughout the massage to ensure the pressure was just right. All in all, from the massage to the hotel to food, it was a wonderfully romantic Valentine's Day weekend!