​Are you ready for an unforgettable adventure where sandy shores, wagging tails, and endless fun collide? Welcome to New Smyrna Beach, a hidden gem on Florida's sun-kissed coast, where your furry friends are treated like royalty. This coastal town boasts endless beaches, delectable cuisine, and a vibrant atmosphere and embraces pets with open paws. Get ready to embark on a thrilling journey through the pet-friendly wonders of New Smyrna Beach, where the fun never stops for you and your furry friends!
Stay at the Anchor Inn NSB Bed & Breakfast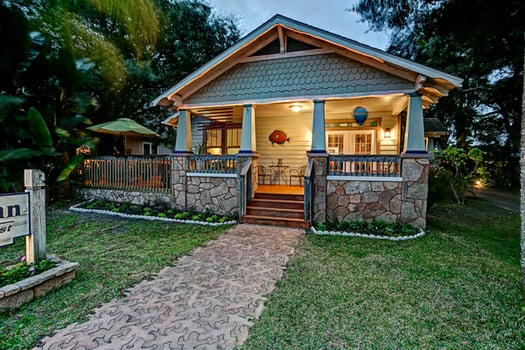 Pets are Pampered, and Humans are Spoiled - Unleash the Tail-Wagging Good Times!
When it comes to finding accommodations that cater to both you and your pets, Anchor Inn NSB B&B is the perfect choice. This charming bed and breakfast prides itself on being pet-friendly, ensuring a comfortable stay for you and your beloved pets. Trip Advisor reviewer, Sara, raves about her experience, saying, "Anchor Inn NSB B&B was a dream come true for my furry friend and me. The staff was incredibly welcoming, and our room was spacious and cozy."
The inn offers comfortable accommodations and a warm, welcoming atmosphere for guests. With a focus on providing excellent service, Anchor Inn NSB B&B strives to ensure a pleasant stay for all visitors. The location is conveniently situated in close proximity to local attractions, shops, and restaurants, making it a convenient base for exploring the area. Guests can expect cozy rooms, friendly staff, and a delightful breakfast to start their day.

Accommodations for every taste and budget: Check other pet-friendly options such as Hampton Inn and Outriggers Marina. The Hampton Inn offers comfortable accommodations and hosts a pet mascot contest, ensuring a fun and engaging experience for you and your pets. Outriggers is another fantastic spot to unwind while enjoying relaxing river views. With a pet-friendly policy, your furry friends are welcome to join you on the outdoor Riverdeck. Vacation Rentals abound, is always a favorite option for families and pet owners.

Unleash the Adventure at Smyrna Dunes Park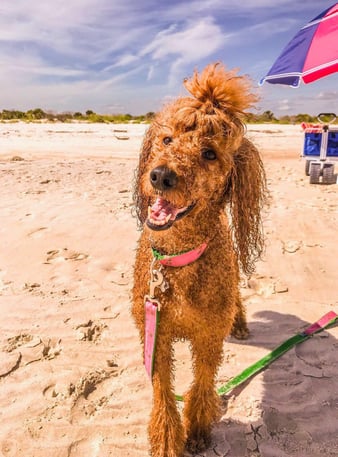 where every dog gets its day! Here is where our buddies rule the sandy trails and waves! New Smyrna Beach is home to the renowned Smyrna Dunes Park, a haven for nature lovers and their pets. This scenic park features over two miles of pristine sandy trails, dunes, and lush greenery, making it the perfect playground for families and their four-legged buddies. Dogs can explore the park's trails and splash on the dog-friendly beach. Bring a frisbee or a ball, and enjoy a day filled with fun and adventure with your pet by your side. Dogs must be on leash at all times, and humans must pickup after your dog.
Smyrna Dunes Park offers a range of amenities for visitors to enjoy. The park features well-maintained trails, providing easy access to the beach. With its tall dunes, the park offers a unique and picturesque coastal landscape. Visitors can walk, enjoy the ocean breeze, and appreciate the area's natural beauty. It's a serene and peaceful destination for nature lovers and those seeking a relaxing beach experience.
Silly Willie's Dog and Cat Boutique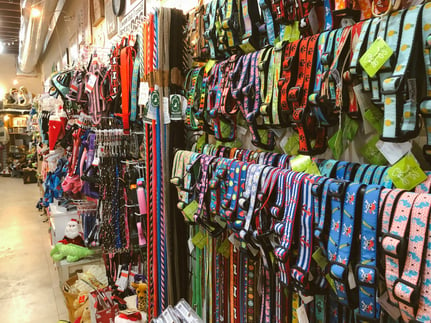 Shop until all tails wag and whiskers purr - Get Ready for a Pawsitively Fabulous Shopping Spree!
A visit to Silly Willie's Dog and Cat Boutique is an absolute must for pet owners who love to pamper their furry friends. This delightful store offers a wide range of pet accessories, from fashionable collars and leashes to gourmet treats and stylish apparel. Silly Willie's even boasts a cute dog-sized mural with wings, perfect for a memorable photo opportunity with your beloved pet.
The boutique has garnered positive ratings on Google, reflecting the satisfaction of its customers with their shopping experience. It's a go-to destination for pet owners looking to pamper their beloved dogs and cats with quality products.

Yellow Dog Eats. Where culinary delights meet canine buddies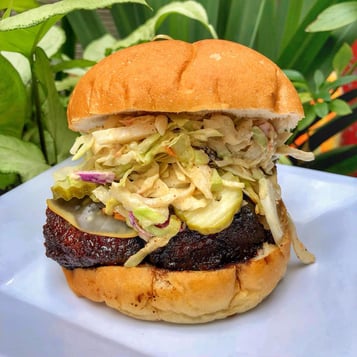 Unleash a Feast of Flavor in New Smyrna Beach!
Step into the world of Yellow Dog Eats and be greeted by a whimsical ambiance that sets the stage for a one-of-a-kind feast. The restaurant is renowned for its delectable creations that combine unique flavors and high-quality ingredients. The restaurant's quirky decor and charming outdoor seating area make it the perfect spot to unwind after a day of exploration. As you take a seat, you'll feel the inviting atmosphere envelop you and your furry friend, creating a relaxing and enjoyable environment for all.
The restaurant is renowned for its delectable creations that combine unique flavors and high-quality ingredients. From gourmet sandwiches bursting with savory fillings to mouth-watering salads and decadent desserts, the menu offers diverse options that will please even the most discerning palate. Indulge in their signature dishes like the "Pulled Pork Perfection" or the "Blackened Gator" for an authentic taste of the region.

A Year-Round Paw-ty in New Smyrna Beach: Unleash the Fun at Pet-Friendly Special Events!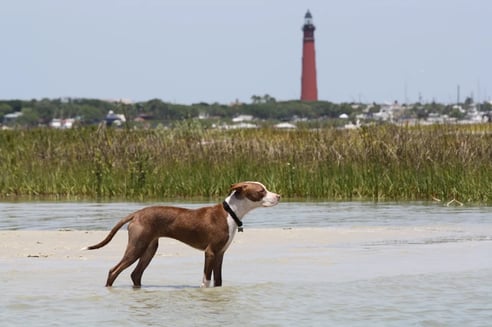 New Smyrna Beach isn't just a place to relax and unwind—it's a destination that knows how to throw a paw-some party for our furry friends! This vibrant coastal town hosts special events and celebrates the bond between pets and their owners. From thrilling races to delicious treats, experience a year-round extravaganza of festivities.
In the words of a delighted visitor on Trip Advisor, "New Smyrna Beach exceeded all our expectations as a pet-friendly destination. We enjoyed exploring the beautiful parks, shopping at unique pet boutiques, and dining at fantastic restaurants that warmly welcomed our furry friend. It was a vacation we will cherish forever!"
Start planning your memories and adventure at New Smyrna Beach!