Since the 1960s, surfers have chosen New Smyrna Beach, Florida. With an average water temperature of 75 degrees and waves year-round, our area regularly receives awards for being one of the best surf towns in the United States.
As just one example, SURFER MAGAZINE named New Smyrna Beach no. 5 Best Surf Town in 2017: "Over the inlet from Daytona Beach's Spring Break madness, New Smyrna Beach is a quiet little community of core surfers that pretty much have something to ride every single day of the year."
So whether you've been surfing forever or want to try it out, New Smyrna Beach is a great place to go. From the waves to the shops to the coastal vibe, locals and visitors alike consider New Smyrna Beach a surfer's paradise on the East Coast.

We compiled some insider tips about surfing in the New Smyrna Beach area.
Where to Surf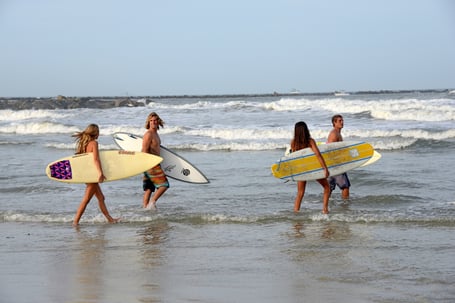 While New Smyrna Beach might not have the biggest waves, the waves are reliable thanks to rock ledges off the coast. As Chuck Carter, owner of Nichols Surf Shop which has been around since 1969, was quoted in a VisitFlorida article, "No matter what, you know you're always going to catch a good wave."
Some of the best places to surf include New Smyrna Inlet where you can expect an off the hook session any time of year, but it's ideal when the swell direction is from the southeast or east. There are jetty and sandbar breaks, and it can sustain huge waves with the right conditions. In fact, the New Smyrna Inlet is the most consistent break in Florida, if not the whole East Coast.
Another favorite spot is Bethune Beach, if there's a south swell. Ponce Inlet can get crowded whereas Bethune Beach has typically fewer people. Bethune Beach is a particularly good spot for people new to surfing since it's easy to spread out; however, the waves are only good when the swell is over three feet.
The Best Surf Shops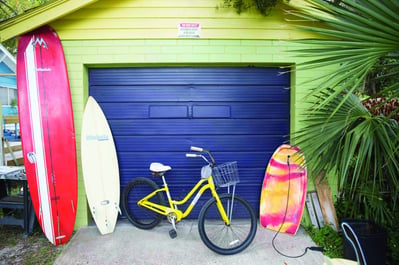 The oldest surf shop in New Smyrna Beach is Nichols Surf Shop, a local favorite where you can get merch, boards, bikes, and kayaks. We would recommend it even if you are not a surfer – just for the vibe!
You can also book surfing lessons there if you're new to the sport or could use a little refresher from an expert. In your two-hour lesson, you'll learn wave and water knowledge from instructor Mike who's known for being a great teacher—observant, understanding, and motivational.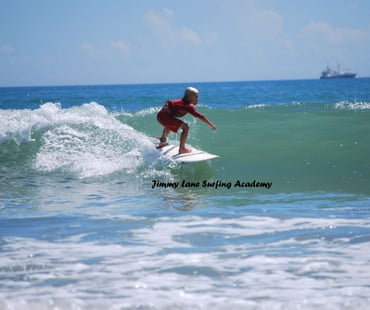 If you're looking to get a new surfboard, then it's worth checking out Quiet Flight Surf Shop on Flagler Avenue. It's a local board building company that sells custom hand-shaped surfboards in addition to plenty of other boards, clothing, and accessories. Quiet Flight is also a great place to go if you have any questions related to surfing in our area.
And if you want to teach the ways to your kiddos, Jimmy Lane Surfing Academy offers classes on a daily and weekly basis and is open to all ages and all levels of students. Surfin' NSB also offers surfing lessons, and their instructors will even come to you