With the holidays fast approaching, we knew we needed to set aside some time to go shopping for friends and family. Since the kids are a little older this year, we decided to turn it into some family time on a Saturday and brought the kids along with us.
Checking Off Our Holiday Gift List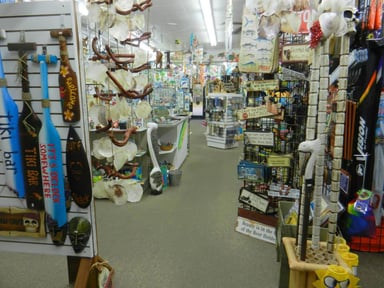 Fueled up with a nice, healthy breakfast, we started the morning shopping in the New Smyrna Beach area. Although we were open to stopping anywhere, we especially wanted to visit Posh Pineapple and G. A. Dolly Gift Shop.

We headed first to the G. A. Dolly Gift Shop. Located on Flagler Avenue, it's a great place for any holiday gift with many unique items. The kids loved all the wall decor and eventually decided on a small stingray for their aunt who has a small collection of stingray items.

Then we headed to the Posh Pineapple, located on Canal Street and full of gifts and clothing for almost everyone in the family. We had the kids pick out a candle for grandma, and they enjoyed smelling the different varieties before finally selecting the Frasier Fir candle.
Enjoying the Season in New Smyrna Beach
After a couple hours of shopping, the kids were ready to burn off some steam, so we headed to Christmas Park, which is always beautifully decorated for the season, to see the tree and briefly walk around before grabbing some lunch off the Intracoastal at Mermaid Cafe.

Once we got to Mermaid Cafe, we enjoyed the beautiful, sunny weather on the patio—the benefits of Florida—while eating delicious food.

Both kids decided to get the freshly made beignets—one got fresh fruit as a topping while the other got chocolate—whereas the two adults got pulled pork that was cooked low and slow for eight hours. Everyone was happy!
One More Stop at the Flip Flops Shops
Since we were nearby, I decided to make one more stop at the Flip Flop Shops to get some presents for my better half. My husband stayed back and waited for the kids to finish eating their beignets and then pay while I dropped by the Flip Flops Shops to get him some new Hey Dude shoes for Christmas. Another item checked off the list!

All in all, it was a successful Saturday shopping for the holidays with the kids. We didn't cross everything off our list, but we did get some items that we needed, and the kids seemed to enjoy getting to participate. I'd call that a win-win!