It's that time of the year again when the air is filled with joy, and everywhere you look, twinkling lights and festive decorations adorn the streets. If you're searching for a unique and sun-soaked way to celebrate the holiday spirit, look no further than New Smyrna Beach, Florida. This charming coastal town knows how to combine the magic of the season with the laid-back vibes of beach life. So, grab your sunglasses, flip-flops and Santa hats to explore the best celebrations and lights displays of the season!
Nov. 24: Spark the Spirit
Start the season early and head to the Canal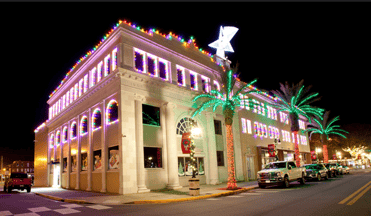 Street Historic District for a dose of holiday cheer at Spark the Spirit on Friday, November 24. The iconic Canal Street will close to vehicle traffic so that pedestrians can meander through the shops and restaurants before heading to Christmas Park for the annual Tree Lighting, live music and Santa's grand appearance.
Nov. 25: Coastal Christmas Market
For those looking for the perfect gifts for loved ones, the Coastal Christmas Market on Canal Street is a must-visit on November 25. With more than 80 local vendors and artisans offering unique handmade crafts and gifts, visitors can find presents for everyone on their list.
Nov. 30: Girls' Night Out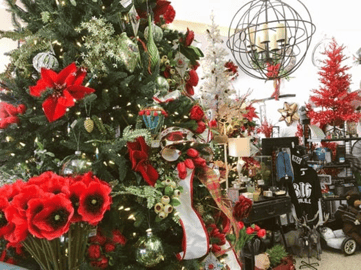 On Thursday, November 30, ladies are invited to stroll through the Historic Canal Street District at the ultimate holiday shopping event, Girls' Night Out. Canal Street will close to vehicle traffic so that attendees can enjoy the glittering lights of the palm tree-lined avenues while stopping by local boutiques, live music performances, delicious restaurants and more.
Dec. 1: Christmas Cookie Challenge and Light Up Flagler
The first weekend in December marks the annual Great Homemade Christmas Cookie Challenge on Friday, December 1, where participants can indulge in homemade cookies and tasty creations before heading to the Light Up Flagler parade to continue the festivities. Watch as Flagler Avenue glows with storefront decorations and holiday lights celebrate the start of the season.
Dec. 1-30: Merry Hitmas Music Festival
Warm up those vocal cords and get ready to sing along at holiday music events around town! Find all your favorite holiday tunes at the Merry Hitmas Music Festival, with more than 30 free shows taking place each weekend in December along Flagler Avenue.
Dec. 2: NSB Christmas Parade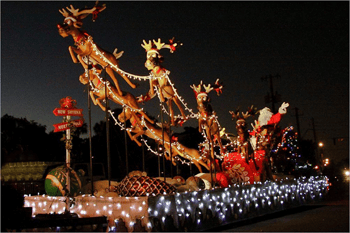 Another beloved annual event is the NSB Christmas Parade, taking place on Saturday, December 2. Featuring colorful floats, marching bands, holiday costumes and more, this celebration welcomes families to line the streets and soak in the festive atmosphere as Santa Claus makes his grand appearance.
Dec. 8: Hub on Canal Christmas Music Special
For a more intimate holiday experience, the Hub on Canal is set to host its annual Christmas Music Special on December 8, where you can stroll the galleries and studios of the beloved arts center while taking in a special holiday music performance.
Dec. 9: Holiday Boat Parade
The town will take the festivities to the Intercoastal Waterway for the 36th Annual Holiday Boat Parade on Saturday, December 9. Onlookers gather at Riverside Park to take in the spectacular display of boats adorned with dazzling lights and festive decor.
In New Smyrna Beach, celebrating the holiday spirit takes on a whole new meaning. It's a perfect blend of annual traditions and the laid-back lifestyle that Florida is known for. From the beach to the celebrations to the delicious dining options, New Smyrna Beach is a holiday destination that will warm your heart and fill your soul with joy. Happy holidays, beach lovers!