Sun-kissed beaches, fresh ocean breezes and delicious ice cream are the perfect recipe for a dreamy vacation in the New Smyrna Beach Area. Whether you're a local seeking a sweet treat, or a visitor exploring our charming coastal community, the ice cream spots we love are the perfect way to finish a day in the sun. Join us as we embark on a delectable journey to uncover the top five best places for ice cream in the New Smyrna Beach Area!
Cool Treats for NSB
Up first on our ice cream escapade is Cool Treats for NSB, a whimsical parlor where you'll be welcomed by the heavenly aroma of the freshly baked, homemade waffle cones. Cool Treats boast an array of flavors from the classics to more unique tastes, along with sugar-free options and Italian ice. If you're an adult on island time, you may want to indulge in one of their famed boozy scoops, with a variety of alcohol infused flavor options.

Twistee Treat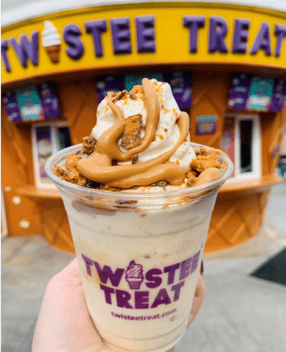 Over on East Third Avenue, you can't miss Twistee Treat, a local favorite housed in a giant, ice cream cone shaped stand. Stop in on the way to the beach to enjoy a classic cone, ice cream taco, soft serve float or milkshake off their creative menu of fun flavors. A favorite among visitors is the brownie boat, loaded with warm baked brownies and your choice of homemade soft serve with toppings galore!
Neighbors Ice Cream Parlor
The next stop on our quest is Neighbors Ice Cream Parlor, a local treasure that emphasizes community and connection over a shared sweet treat. This family-owned parlor prides itself on serving hand made ice cream, using only the finest Florida-grown ingredients. From waffle cones to dipping sauces and unique toppings, everything is made with fresh and local ingredients. The ever-changing menu of classic and seasonal flavors makes every visit a new experience!
Frosty King Creamery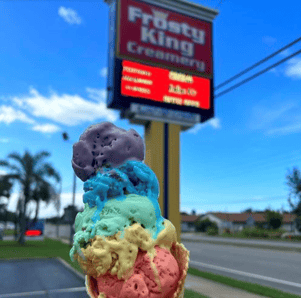 Prepare to be blown away at our next stop, with the array of delicious flavors awaiting at Frosty King Creamery. This ice cream parlor offers adventurous flavors from Almond Joy to Honey Lavender and the extensive list of weekend flavor options is always changing. Along with ice cream you can try the frozen parfait, waffle cone dessert nachos, ice cream cake and other frozen treats that are sure to make your taste buds tingle. With a commitment to using the freshest ingredients, this unique ice cream spot is a must try!
Ice Queen Truck
Ice cream on the beach is the name of the game at the Ice Queen Truck, a mobile ice cream parlor rolling down the beach between 27th Street and the jetty, serving up tasty goodness every day from 11 a.m. to 5 p.m. If you can't make it to the beach, place a mobile order and have the Ice Queen Truck roll right to your neighborhood! Even better, this little truck is the place where sweets meet service with $1 of every purchase donated to the Marine Discovery Center to promote wildlife preservation and education.
From the vintage feel of Dairy Queen, the community charm of Neighbors or the childlike excitement of the Ice Queen Truck, the New Smyrna Beach Area is the perfect place to fulfill your ice cream cravings. Hop out of the sun and go indulge in a scoop of paradise at one of these top spots during your next visit!