With a vibrant food scene that caters to all tastes, our charming beachside community is a perfect destination for a romantic culinary journey. Whether you're celebrating an anniversary, planning a special date night or just looking to enjoy an intimate dinner with your loved one, New Smyrna Beach has an array of impressive restaurants that promise to set the mood for a memorable evening.
1. The Garlic
This culinary gem boasts an inviting ambiance with dim lighting, warm accents and a covered patio perfect for date night. Known for its innovative Italian dishes, The Garlic features a menu that captures the essence of indulgence. From mouthwatering freshly baked bread and roasted garlic to delectable pasta dishes, The Garlic is a must-visit for couples seeking an unforgettable dining experience.
2. The Spanish River Grill & Wine Bar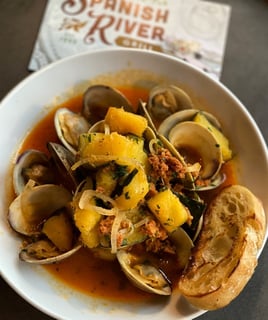 For an enchanting evening that combines waterfront views with exquisite cuisine, look no further than The Spanish River Grill. With its elegant décor and a menu that celebrates the rich flavors of Spanish and Mediterranean dishes, this restaurant offers an unmatched setting that is sure to impress. Enjoy fresh seafood, tender steaks, and an extensive wine list as you gaze out over the Indian River Lagoon – a truly romantic backdrop that adds a touch of magic to your dining experience.

3. The Grille at Riverview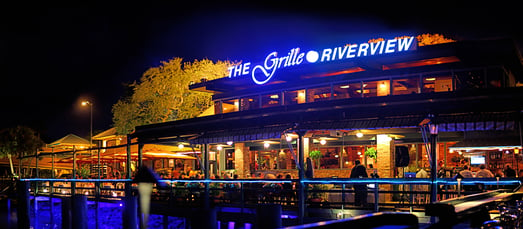 Located at the luxurious Riverview Hotel, The Grille at Riverview welcomes guests to an unforgettable dining experience with sweeping vistas. A serene evening spent sipping wine and enjoying an impressive menu of chef-driven entrees is made even more spectacular against a backdrop of the sun setting over the Indian River. Enjoy a picturesque meal with your loved one while you scan the waters for dolphins and manatees. Interested in extending your weekend? Book one of the Riverview Hotel's luxurious suites and stop by the onsite spa for a rejuvenating couples' spa day.

4. Norwood's Eatery & Treehouse Bar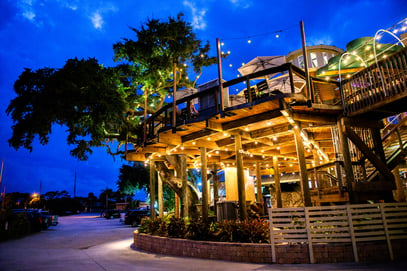 Nestled among lush trees and overlooking a serene garden, Norwood's is a longtime local favorite that offers a unique ambiance and dining among the canopy. Choose to dine indoors or head up to the charming treehouse bar for panoramic views and al fresco dining year-round. The menu features a fusion of contemporary American cuisine with global influences, ensuring that you will find something to delight your palates. Enjoy sunset views and nightly live music or book a reservation for one of the restaurant's special events, such as its signature wine dinners.
5. Third Wave Café
Tucked away on Flagler Avenue, Third Wave Café and Wine Bar offers an intimate outdoor dining experience among a lush garden patio. Adorned with string lights and natural accents, Third Wave feels like a private escape for couples. Enjoy an extensive wine list or handcrafted cocktails paired with an award-winning menu that features sustainable and seasonal entrees. Those looking for a brunch experience will be delighted by the creative offerings as a perfect way to start the day.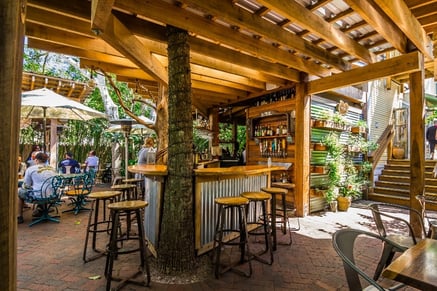 The New Smyrna Beach Area isn't just a place to enjoy the sun and sand – it's also a haven for couples seeking an enchanting culinary experience. So, the next time you find yourself in our seaside community, make sure to set aside an evening to explore the town's romantic dining scene and discover flavors that will ignite your senses and warm your heart.