When my husband and I retired, we vowed to spend the next chapter of our lives together exploring new places and cultivating novel experiences. As the year-end holidays approached, we took the chance to create new traditions and memories by spending some time in the New Smyrna Beach Area, where we celebrated Christmas with palm trees instead of spruce, and rang in the New Year decked out in short sleeves and shorts instead of parkas and scarves.
Our Arrival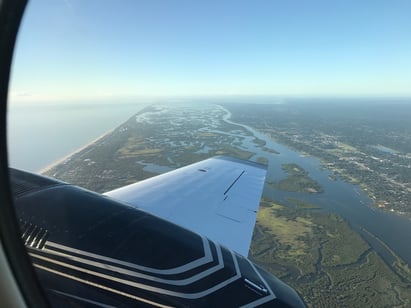 Getting to the New Smyrna Beach Area was easy. We flew directly into Daytona Beach International Airport, rather than deal with the hubbub of one of the other busier airports in this part of Florida. We picked up our rental car and set off to our holiday destination. Just 25 minutes after leaving the terminal, we were having lunch at The Breakers, watching the waves crashing on the shore while enjoying the award-winning burgers. I could get used to the more casual pace of Christmas here on the beach!
Our Home Away from Home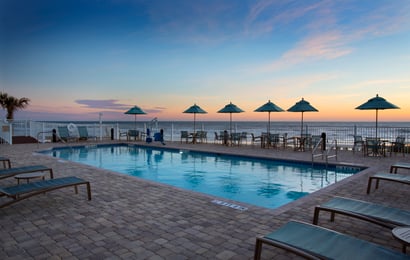 After lunch, we decided to check in to our hotel. We opted to stay at the Marriott SpringHill Suites, to give us a bit more room than a regular hotel or B&B room. The pool and fitness center were also a big draw. Plus, we were just steps away from both the pristine beach and the town, so we had the best of both worlds: the relaxing sights and sounds of waves and sand, and the vibrant scene of restaurants, galleries, and shops.
Culinary Delights
Being in Florida, we had "dining on fresh seafood" on our agenda, and we weren't disappointed in the plethora of choices. At Off the Hook Raw Bar & Grill, we devoured a plate of steamed local shrimp and Olsen's Cracked Conch before our entrées of crawfish étouffée and steamed and roasted clams. At Norwood's Treehouse, I gave in to the temptation of broiled scallops, whereas my husband, feeling hungry, went with the Admiral's Platter. It's a good thing we walked during the day—otherwise, we'd have ended up as plump as St. Nick after our visit.
Natural Beauty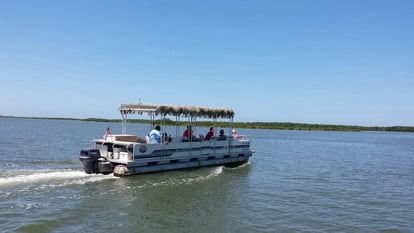 We didn't want to spend all our time indoors—that's why we wanted to spend the holidays in a warmer climate. As nice as a roaring fireplace can be, we had plenty of time to enjoy that when we got home. This trip was for reveling in the sun and seeing the lush greenery of a tropical locale.
Playful dolphins followed alongside our boat during a peaceful tour along the Canaveral Seashore aboard a cruise run by Turtle Mound Tours. We saw curious manatees gathered along the shores and docks as well as numerous wading birds as we meandered around the small islands and the mainland during our excursion. It was definitely a different experience from crowded shopping malls before the holidays.
Hitting the Links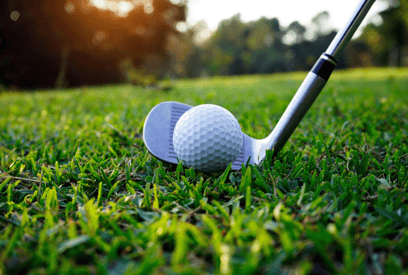 Hitting the LinksIt may be a cliché, but we've come to love playing golf in our retirement. It gets us outside and moving in the fresh air while also challenging us to constantly improve our game. While in the New Smyrna Beach Area, we were thrilled to be swinging our clubs over the holidays instead of hefting a shovel full of snow. With many fine courses to choose from in the area, we found ourselves at Hidden Lakes Golf Club. Featuring a great mix of long and short holes, the greens offered a great game for both newbies like us and more experienced players. The landscape is decidedly Southern, with Spanish moss draping the trees along the course, and spoonbills and cranes hunting for their dinner in the ponds scattered throughout.
New Holiday Traditions… and Some Old Ones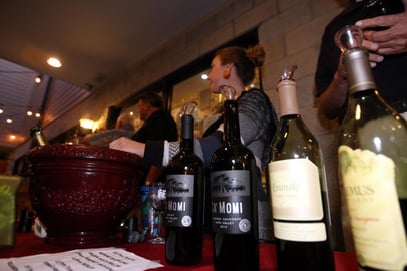 In line with our wish to create new traditions in our retirement, we joined the Flagler Avenue Wine Walk, which takes place on the fourth Saturday of each month. As we strolled from venue to venue, sampling wines and chatting with vendors and other participants, we enjoyed the festive atmosphere and goodwill everyone was exuding at this celebratory time of year. Back in our hotel, after rinsing out our keepsake glasses from the Wine Walk, my husband and I exchanged small Christmas presents we had picked up for each other during our stay in this Southern paradise: the continuation of our old gift-gifting tradition, but with a new spin.